I get asked all the time "how did you do this?" or "how do you know that?" and when I answer the question the answer always is, I just went forward without hesitation and figured it out. I let go of questioning if it will work or not if it will make money, and tap into the feeling; am I having fun? Am I enjoying the practice of doing, building, and seeing where each new idea takes me?
Sol Lewitt, in 1965 wrote a letter to his sculptor friend, Eva Hesse, that conveys my sentiments exactly for any entrepreneur in the state of questioning. LeWitt urges Hesse to stop overthinking her art and let go of her expectations or attachments to what it must be:
Dear Eva,

It will be almost a month since you wrote to me and you have possibly forgotten your state of mind (I doubt it though). You seem the same as always, and being you, hate every minute of it. Don't! Learn to say "Fuck You" to the world once in a while. You have every right to. Just stop thinking, worrying, looking over your shoulder, wondering, doubting, fearing, hurting, hoping for some easy way out, struggling, grasping, confusing, itching, scratching, mumbling, bumbling, grumbling, humbling, stumbling, numbling, rambling, gambling, tumbling, scumbling, scrambling, hitching, hatching, bitching, moaning, groaning, honing, boning, horse-shitting, hair-splitting, nit-picking, piss-trickling, nose sticking, ass-gouging, eyeball-poking, finger-pointing, alleyway-sneaking, long waiting, small stepping, evil-eyeing, back-scratching, searching, perching, besmirching, grinding, grinding, grinding away at yourself.

Stop it and just

DO

The masterpiece of a response LeWitt wrote on April 14, 1965 was later included in Letters of Note: Correspondence Deserving of a Wider Audience (public library)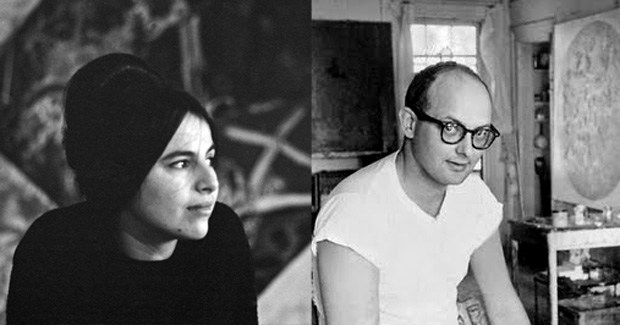 From your description, and from what I know of your previous work and your ability; the work you are doing sounds very good "Drawing — clean — clear but crazy like machines, larger and bolder… real nonsense." That sounds fine, wonderful — real nonsense. Do more. More nonsensical, more crazy, more machines, more breasts, penises, cunts, whatever — make them abound with nonsense. Try and tickle something inside you, your "weird humor." You belong in the most secret part of you. Don't worry about cool, make your own uncool. Make your own, your own world. If you fear, make it work for you — draw & paint your fear & anxiety. And stop worrying about big, deep things such as "to decide on a purpose and way of life, a consistant [sic] approach to even some impossible end or even an imagined end." You must practice being stupid, dumb, unthinking, empty.

Then you will be able to

DO
LeWitt reminds Hesse that perfectionism kills creativity and urges her to surrender the addiction to good work and use the bad as a springboard into the great.
The same goes for entrepreneurs, and I have been caught in this perfectionism cycle over and over, but it's letting go of the perfection, the expectation, enjoying the present, the process, and the journey. For your mind does not know what you of the future can create but your heart does. So, get out of your mind and into your heart. Into your soul, your feelings, and your creative intuition.