This past weekend, January 5 – 8th, 2023, I was fascinated watching Fred Again, Skrillex, and Fourtet create three sold-out collaborative shows in London.
Here's How it Worked
They crowdsourced a venue that was available for them to perform that night.
Each artist had a set number of tickets to sell and sold these tickets via a link on Instagram.
Each day the shows sold out within minutes of the ticket link being sent on Instagram.
I'm not sure exactly how it started, but I do know that they are all friends. I assume Skrillex was visiting Fred, as their single, Rumble, is coming out in early January. From Fred's Instagram, you could see the joy the three were having jamming out in Fred's apartment in London. On a whim, Fred posts on his Instagram, "We want to do a show – who has a venue?." Within 3 hours, they have a venue and a link to purchase tickets.
Takeaways
1. Start from a place of fun/joy
2. Grow, gift, & own your community
3. Decentralize – power to the artist
4. Innovation happens in the moment
1. Goal = For Fun!
The show idea started as Skrillex, Fred, and Fourtet thought it would be super fun to do a show together. That's it. The pure joy of being together and creating music for their following/fans.
It did not start with the intent, 'We can make a lot of money if we do a show' or 'Let's grow our communities by working together.'
It started from a place of joy and not greed. More of this!
2. Build & Own Your Community
This was possible because Fred Again, Fourtet and Skrillex have distribution channels to sell tickets directly to their following. Their community or following is over 13 million combined on Instagram alone, and this audience is the highest converting audience one can build.
Second, incentivizing your community with opportunities, such as first access to buy tickets to exclusive shows, increases the connection to your community. From this, more people will follow Fred, Skrillex, and Fourtet to stay on top of other shows they will do together or separately.
When building your community, ask yourself, why would one follow me/my brand or business? What can it give in exchange for its followers to keep them?
Third, look for ways to cross-pollinate to build your community. For this show series, Fred, Skrillex, and Fourtet were all given ticket links. If the tickets sold out on Fred's Instagram, the customer would follow Skrillex or Fourtet to see when they would upload a link.
Therefore, followers gained all around for all three performers from one account to another. Absolutely brilliant.
3. Decentralized Ticket Booking
Since Fred, Skrillex, and Fourtet had communities in which they had a built-in return, they could decentralize the process of selling tickets to their impromptu show.
The tickets were listed at £30 each (a nominal fee for this talent) and booked directly to the venue, not via Ticketmaster or a giant ticketing distributor. Each performer, Skrillex, Fred Again, and Fourtet, got a link to sell a portion of the total ticket sales to their audiences on Instagram.
The decentralization of the booking direct to consumer is brilliant, and I hope we see more of this year. Also, the fact the show was sold on the day limits the market for bulk ticket resellers. I do see it happening within the comments, which is bound to happen as it's still a market.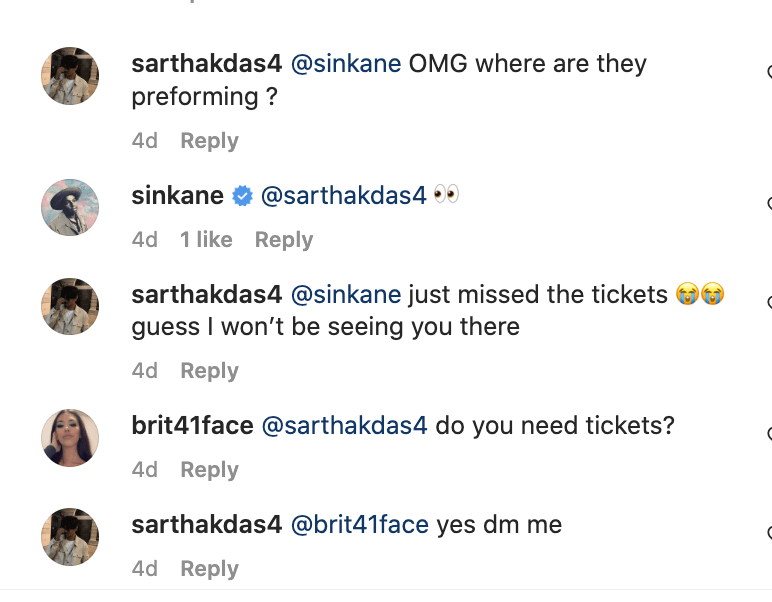 4. Innovation Happens in the Moment
This is my favorite part of watching the clips from the Fred, Skrillex, and Fourtet set. You can see on Fred's face he is in awe of the technique that Skrillex just did.
In Conclusion
More of this in 2023. More artists 1. taking control of the community they are building vs. hiring a marketing agency/pr rep, 2. having control over the music they are producing, and 3. selling tickets directly vs. broker or ticket master, etc.
As I revisit this post in February 2023 and Beyonce's tickets just went on sale for over $600, with 10% of that being TicketMaster fees.
This is the exact opposite of the Fred Again, Fourtet, and Skrillex strategies. Fred Again commented, "When scalpers resell the tickets for a higher amount, it changes the dynamic of the festival." That is so true. Bigger, more expensive, is not always better.
Power to the Artist.